48 Across the 48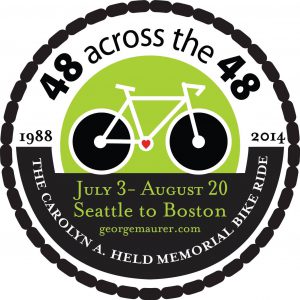 Three summers ago, I was propelling my heavily-laden SURLY Straggler bicycle somewhere in eastern Washington state, toiling my way through the Columbia River Valley in 1000+ degree heat, and thinking to myself "what the hell have you gotten yourself into, Maurer?"  I was both thrilled to be three days into my 48 day, 3600 mile solo adventure across the USA in memory of my friend Carolyn Held, who had made this exact same journey in the summer of 1088, but also seriously wondering what was in store for me.  Soon, I forgot al of that, as the beauty of the entire breadth of the northern half of America unfolded beneath my tires.  I was hooked.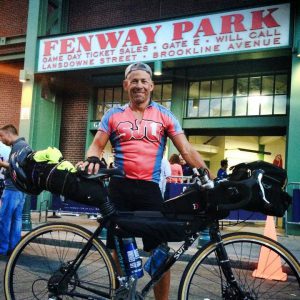 And by Day 48, as I ended my journey in front of Boston's Fenway Park, I had been transformed.  And we had all raised over $21,000 for cancer research in Carolyn's memory.  My goal had been $10,000.  It looks like all of you had been transformed by my journey, too.
When cancer takes away a friend that meant a whole heck of a lot to you and others, even death has the power to transform and create new life.  Carolyn's encounter with cancer has given me, and many of you, new life, as we ponder what it means to "live life fully".  Carolyn certainly did.  She continued living life fully after she biked across America, even doing her first triathalon at the age of 64.  She came in first place in her age group!
She was the only person inher age group.  See what I mean?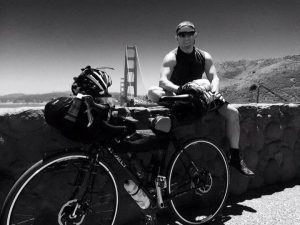 49 Across the Wild West
So, like a fool, I did it again the following summer.  From sea level at the Golden Gate Bridge, the on to climbing over the 8600′ Carson Pass at the summit of the Sierra Nevada, then descending into the fiery hell of the sun blasted Nevada desert along the old Lincoln Highway (US 50, the "loneliest highway in America"), gradually making my way to the other side to bike through the amazing planet-like landscapes of Utah, and finally, on a last minute dare from another bicyclists from the UK who I met on the Amtrak headed with me and my bike to Denver, biking to the 14,110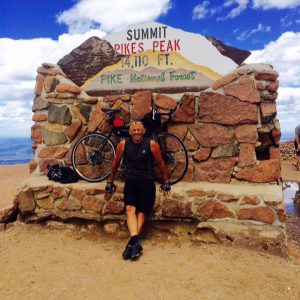 foot summit of Pike's Peak the next day.
By the end of that ride, you all had helped me raise over $30,000 to the Carolyn Held Memorial to directly benefit cancer research at Mayo Clinic.  More than that, your encouragement for my cause and for what was now becoming a way of life for me, propelled me on to consider what inevitably was going to be another bike ride the following summer.
But where to?
50 Across Iceland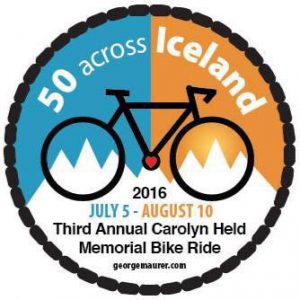 People always ask me "but why Iceland?", and my answer is always simple.  If you look down at Iceland, all the way from outer space, the island (nestled at the  edge of the Arctic Circle in the North Atlantic) not only looks like its the size of Ohio, but it is also kinda shaped like the "O" in Ohio.  Or a zer-O.  And seeing as each of these bicycle adventures have started off with the age that I am at it each outset, it made total sense to me to be bicycling the interior and exterior of this land of fire and ice at the age of 50.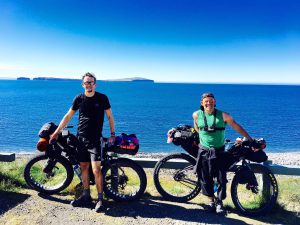 My talented photographer friend Grant and I had a 1500km adventure over five weeks on fat bikes, and to this day we are still sifting through a trove of Go Pro footage and photos that do their best to depict this amazing country.  Here's a quick videologue of some of the highlights of our adventure.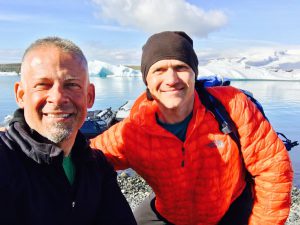 While there, I met a Siberian-Russian painter and elementary school French teacher named Michael.  He's the real deal; even sounds and looks like a James Bond villain; "even flies who wander into my classroom," he intoned with thick Russian accent (and a twinkle in his eye)"do not dare to make any noise, and sit still while I am teaching the French to the school children."  I would seriously crap my pants if I had this dude as a school teacher.
He's seriously bad-ass in other ways, too.  He's climbed Mt. Kilimanjaro, and other epic mountain peaks across the world  And he's my riding bud for this summer's ride for a cure.  Already we are bonding over arts, literature, culture, social and political commentary.
51 Across Sri Lanka
So here's where you can do your part.  Instead of clicking on "Like" if you are reading this on Facebook, click on the word "donate" Below and show your support that way.  I'll continue to journal and blog, share pictures and video throughout this month.  AllI ask is that you simply read them, and then acknowledge that you have by donating $10, $25, $100, whatever you are able to.  We are over $39,000 in donations in total so far, and I'd like to see that number hit $46,000 by the time I depart Sri Lank August 4th.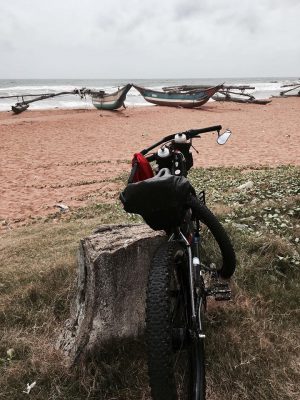 How about it?  Don't make me sic the Russian on you…:)
And THANK YOU for your support!  Our wheels hit the road for a Sri Lankan adventure via bicycle today!