Thank you for giving and, yes, I'm riding again for cancer research next summer…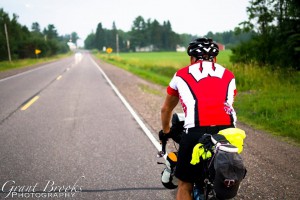 …as if riding 3600 miles in across the USA in 48 days wasn't goal enough last summer, when you helped me raise over $21,000 to benefit cancer research at the Mayo Clinic with the Carolyn Held Memorial. But even Carolyn didn't stop riding amazing distances once she had finished her own 1988 bike odyssey. A few years later, she organized another ride, leading a group of bicyclists across the Midwest from Minneapolis to Denver, CO to see the Pope. They didn't get an audience with his holiness, but then again, its about the journey, and not the destination, right?
Leg 1: San Francisco to Denver (1500 miles from June 22-July 11)
Pope or no Pope, with Carolyn Held's ride as my inspiration, I'll be biking to Denver, CO to benefit cancer research in June-July 2015, beginning at the Golden Gate Bridge in San Francisco, eventually climbing 9600 feet over the Sierra Nevada and into some of the most desolate regions of the US, finally ending up in Denver in mid-July. But that's not the end of the adventure!

Leg 2: Vancouver, British Columbia to San Francisco (1100 miles from July 18-31)
Once to Denver, I'll fly to Vancouver, BC to teach a course at the University of British Columbia. A week later, I'll bike 1100 miles back to San Francisco, via Canada, Washington, Oregon, and California, ending at the Golden Gate Bridge. It's my goal to share my adventure with as many of you as possible, via videos, pictures, and journaling.
It's also my goal to raise another $20,000 to benefit cancer research. Please support me, and help me reach out to others to support my cause!
Watch for details at www.georgemaurer.com or at 48 Across the 48 on Facebook.
School/Organizations/ Church Concerts and Presentations by George Maurer
If your students, congregation, or employees could use some goal-setting inspiration combined with world-class entertainment, why not bring in George Maurer to perform and present on his 48 Across the 48 bike adventure?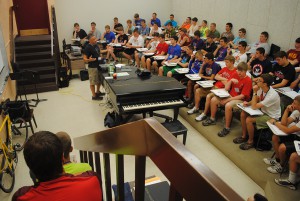 George has been inspiring entire student bodies, athletic clubs, and congregations with his hour-long multi-media presentation, using videos, storytelling, and his gifts as a jazz pianist/composer to underscore his tales of bicycling across the USA- a truly creative way to motivate others to set personal goals.
Contact George at gemaurer@yahoo.com for further information on how to bring George Maurer to your organization, school, or church.
To find out where upcoming 48 Across the 48 presentations are happening, visit www.georgemaurer.com/ calendar/
A story from last summer's bike ride:
It was Day 9, and I had just entered Montana via the Idaho panhandle. So far, my solo bike ride had gone pretty well, although I had had to make some adjustments to my bike: (a new seat, a gel one, replaced my leather saddle, which had been kicking my butt), and I was changing the way I biked (as my achilles heel had been swelling up). I had seen few other bikers on my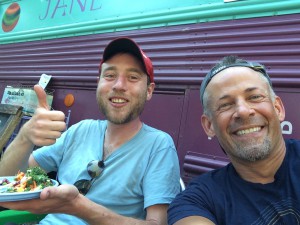 journey, but as I was about to head north on MT 53, a lone rider came into sight, and glided up to me. As many bikers do when they meet each other on the road, he asked me "Where are you biking to?" "Going from Seattle to Boston," I replied. "Hey, so am I!" he exclaimed. That guy was Patrick McMurchie (photo above), a computer programmer from Seattle, WA, and he stuck with me for 15 days of fellowship and fun until Day 24 (Fargo, ND), before we had to part paths. As we said goodbye, however, we jokingly told each other that we should plan a summer 2015 ride…and so we have! Patrick will bike with me from San Francisco to Denver this coming June. I can't wait!
Happy Holidays, and thank you again for your generosity!