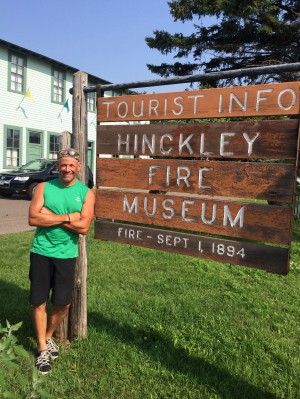 Here's where you can give to The Carolyn Held Memorial Fund
Your contribution is 100% tax deductible.
You can also support George directly:  If you have extra to share, you are welcome to contribute to George's food, camping and equipment expenses. These donations are not tax deductible. However, they do help offset the cost of George being on the road for 48 days, working to raise funds for the Carolyn A Held Memorial Fund.
Paypal users can fund George using: gmjazz@yahoo.com
Checks or Money orders can be made payable to:
George Maurer, 111B Island Avenue West, Minneapolis, MN 55401
48 Across the 48 Journal:  Soo Line Flats
No, it's not the exotic name of a track of land in Central Minnesota that I biked through on my journey. The Soo Line trail, which I attempted to bike from Royalton to Isle, MN, turned out to be more fit for ATVs than my cross-fit road bike.  Within a few short hours, I had flatted three times!
Here's a fast-forward visual of a trail-side tire change.  No Penzoil pit crew, or victory laps.  The whiney pitched noises you hear are ATVs whizzing by me as I sweated away…