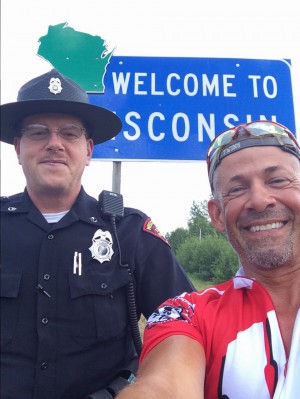 Here's where you can give to The Carolyn Held Memorial Fund
Your contribution is 100% tax deductible.
You can also support George directly:  If you have extra to share, you are welcome to contribute to George's food, camping and equipment expenses. These donations are not tax deductible. However, they do help offset the cost of George being on the road for 48 days, working to raise funds for the Carolyn A Held Memorial Fund.
Paypal users can fund George using: gmjazz@yahoo.com
Checks or Money orders can be made payable to:
George Maurer, 111B Island Avenue West, Minneapolis, MN 55401
48 Across the 48 Journal:  "Run For the Border"

48 Across the 48: "Run For the Border"
My dad owned a 1967 Mustang when I was a kid.  The car was cool in every sense of the word, with one exception:  it was a pastel pink color, thanks to the savvy marketing  mind of its Ford co-creator, Lee Iacocca.  But that didn't stop dad from driving that Mustang as if it was a fast color red.  He'd load the family up in that pink 'Stang and parade us all to church every Sunday.
Even the motorcycle cop that pulled dad over one day (with all four Maurer kids packed in the back seat) noted to George Charles Maurer that he was driving in a manner befitting a red Mustang, and not a pink one.  With Maurer kids gaping out the windows, and mother softly growling "quit staring!", we watched dad quietly converse with the officer.  We had never seen dad pulled over before.
When he got back to the car, I asked "what did the police officer want, dad?"  And dad, with a perfect mixture of Maurer charm and dry wit, responded "he just wanted to know if I knew how to ride a motorcycle."
Which is not what Trooper Luhman from the Wisconsin State Patrol asked me,  pulling up to me, as I jumped in my blaze-red Bucky Badger bike jersey, taking a Snoopy-style victory dance in front of the "Welcome to Wisconsin" sign.   He simply wanted to know if everything was ok, and to "watch out for Wisconsin drivers in this county….they're all idiots."
And then he posed with me for a selfie.  Ah…home.