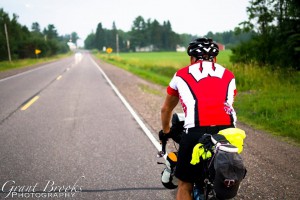 Here's where you can give to The Carolyn Held Memorial Fund
Your contribution is 100% tax deductible.
You can also support George directly:  If you have extra to share, you are welcome to contribute to George's food, camping and equipment expenses. These donations are not tax deductible. However, they do help offset the cost of George being on the road for 48 days, working to raise funds for the Carolyn A Held Memorial Fund.
Paypal users can fund George using: gmjazz@yahoo.com
Checks or Money orders can be made payable to:
George Maurer, 111B Island Avenue West, Minneapolis, MN 55401
This solo bicycle journey across the US hasn't been accomplished by one person and his bike, alone, when you consider the people that have helped along the way.  You have supported  and encouraged me, either in person or from afar, and there are many of you yet to to be met, further along the trail. You have been therefor me, and I will always be there for you.  I am grateful to you all, whether you helped build my bicycle, gave me advice or wisdom, handed me money, fed me, housed me, gave simple and constant words of encouragement, or just happened to show up in a thunderstorm on a unicycle to join me for a few miles on the road.
We are all one voice…
48 Across the 48: Journal 8