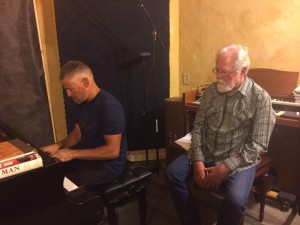 Here's where you can give to The Carolyn Held Memorial Fund
Your contribution is 100% tax deductible.
You can also support George directly:  If you have extra to share, you are welcome to contribute to George's food, camping and equipment expenses. These donations are not tax deductible. However, they do help offset the cost of George being on the road for 48 days, working to raise funds for the Carolyn A Held Memorial Fund.
Paypal users can fund George using: gmjazz@yahoo.com
Checks or Money orders can be made payable to:
George Maurer, 111B Island Avenue West, Minneapolis, MN 55401
48 Across the 48 Journal: A Musical Conversation with Philip Aaberg, Part 1
48 Across the 48 Journal: Philip Aaberg, Part 2
One of my all-time favorite pianists, Philip Aaberg, resides in Chester, MT.  I coveted all his Windham Hill releases while in college, and was pleased to discover him, a couple years ago, living and composing back in his hometown of Chester, MT, after having built an impressive national and international reputation as a performer and composer while based in the Bay area for many years.
Here, Philip "breaks down" one of my favorite compositions of his, Westbound (from the LP High Plains), showing me how he creates the effect of the powerful and omnipresent sound of the constant east and westbound trains that ply the hi-line of Montana (route of the former Great Northern Railroad, built by JJ Hill back in the late 1800's).  Later on that eve, camped out in my tent in the city park, I heard the haunting calls of the great Burlington Northern trains pass throughout the night, falling asleep to their insistent rhythms and to the music of Philip Aaberg in my head.
Check out Phil at www.sweetgrassmusic.com