Aug. 9, 2011
FOR IMMEDIATE RELEASE
MINNEAPOLIS —The members of the George Maurer Group now have publicly acknowledged what their fans have known for years: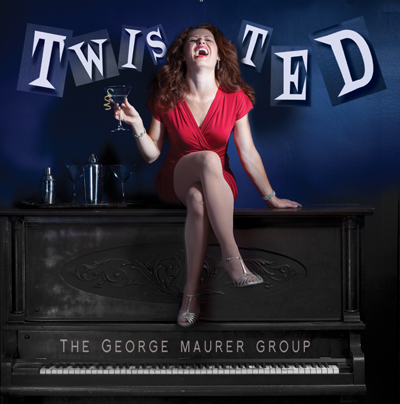 They're a bit twisted — beautifully, refreshingly twisted, like a citrus garnish in a musical martini.
Their new live CD, aptly named "Twisted," shows them at their kinetic best as they stir things up with their jazz-infused, polished yet rambunctious twist on music that spans eras and styles. The track list includes everything from blues and jazz standards (the title track is a version of the Lambert, Hendricks & Ross classic later done by Joni Mitchell) to the Beatles.
The CD will be released Saturday, Aug. 20, and the group celebrates with a sold-out show that night on their home stage at the Dakota Jazz Club and Restaurant in Minneapolis.
The release of "Twisted" celebrates the 25th anniversary of Maurer's recording label, Pine Curtain Records, and marks the label's 20th release.
It's also the George Maurer Group's fourth CD and first non-holiday release since 2000. Yes, it's time, and the sassy CD art is a perfect representation of the high-octane music inside. The cover, featuring vocalist Ann Michels, has a retro theme that represents both the group's respect for history and somewhat irreverent take on classic concepts.
This is the George Maurer Group's most energetic, sophisticated recording of its 13-year career, capturing the deep talent, seat-of-the-pants style and humorous character of their live performance. It was recorded March 5 at the Dakota during the same show PBS affiliate Pioneer Public Television recorded for a segment of its "Pioneer Presents" series.
In addition to George Maurer Group trademarks like Maurer's virtuoso piano, Rich Manik's dynamic saxes and Scott Chabot's finessed drums, "Twisted" features five vocalists, all of whom perform in such harmonic perfection on "Drive My Car" that you might almost wish there had been a fifth Beatle.
Other highlights include Richard Witteman's vocals on "I Can't Get Started," which include some alternative lyrics – a shout-out to Minnesota Twins catcher Joe Mauer, for example – that he snuck in á la Ira Gershwin, much to the band's and audience's amusement.
Guitarist Muggsy Lauer scats himself a storm on "Caldonia" while Witteman tears up the trumpet solo. Rachel Holder sings a version of "Killing Me Softly" that could make Roberta Flack cry, and bassist Jeff Engholm cranks up the attitude for the bluesy "Your Mind is on Vacation."
The incomparable Michels delivers a show-stopping performance in the only song that was not recorded at the March 5 Dakota show. The version of "Wallflower," a Latin-tinged original written by Witteman, was recorded in 2003 for the Minnesota Public Radio Morning Show.
"It's the best recording we've ever done of that song and it's a nod to our past, when the group was only five years old," Maurer says.
"Twisted" will be available on iTunes and georgemaurer.com and at the Electric Fetus in St. Cloud and Minneapolis and the College of Saint Benedict and Saint John's University bookstores.
The Pioneer Public Television piece on the George Maurer Group is still airing on its Minnesota PBS affiliates and also can be viewed online at http://video.pioneer.org/video/2024012739