July 7, 2011
FOR IMMEDIATE RELEASE
George Maurer Group featured in public television series about regional artists who have made an impact
MINNEAPOLIS —The stars of the Minnesota jazz stage are now being featured in all their improv glory on the small (or medium, or big) screen.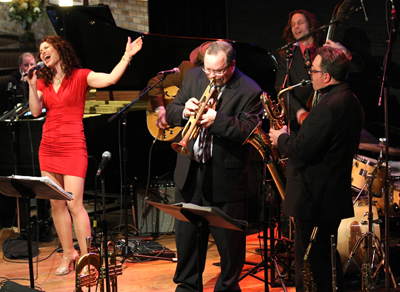 PBS affiliate Pioneer Public Television is featuring the George Maurer Group in a segment of its "Pioneer Presents" series about performers who have made an impact on local and regional music in a variety of genres.
The George Maurer Group's 30-minute segment first aired June 25, and the series will be rebroadcast Saturday evenings throughout July on Pioneer, the PBS television affiliate serving 40 counties in western and southern Minnesota. It also is available online at http://video.pioneer.org/video/2024012739
Pioneer filmed the bulk of the video March 5 at Minneapolis hotspot the Dakota Jazz Club & Restaurant, where the George Maurer Group regularly packs the house. The segment features interviews with Maurer interspersed with footage from the live performance. Highlights include Richard Witteman's trumpet magic on "I Got Rhythm," Ann Michels' silken vocals accompanied by Rich Manik's beautiful flute on the group's original "Wallflower," guitarist Muggsy Lauer, drummer Scott Chabot and bassist/vocalist Jeff Engholm at their bluesy best on "Your Mind is on Vacation," and Maurer's virtuoso piano throughout the red-hot set.
Eric Olson directs the "Pioneer Presents" series, funded through a grant from the Minnesota Arts and Cultural Heritage Fund. Olson and Maurer first met when Olson was co-host of KARE-11's Morning Show, on which Maurer has performed many times beginning in 1995. When Olson received Legacy funding for the series, he immediately thought of Maurer and his group's contributions to Minnesota's jazz heritage.
The public television segment caps a stellar year for Maurer as he celebrates the 25th anniversary of his recording label, Pine Curtain Records. He recently received an $8,300 grant from Minnesota State Arts Board to fund the first reading of his first opera, "Empire Builder," about trains and U.S. immigration from 1885 to present.
His second collaboration with Saint Paul City Ballet took the stage March 25-27 at the Ordway McKnight Theatre in St. Paul and featured Maurer playing his own compositions performed live to choreography by Saint Paul City Ballet.
He made his first appearance with the Minnesota Orchestra in May when he co-arranged four songs, performed in the shows and directed the band and vocalists for the world-renowned 85-piece orchestra's "'80s Rewind!" concerts at Orchestra Hall.
"My Dear Lewis," a show for which he wrote an original score, this year made its New York City premiere and has shown in Seattle, Amsterdam and Taiwan. Last July, Maurer had the unique honor of arranging four songs for the Glacier Symphony's concert to mark Glacier National Park's 100th anniversary.
Next up: The George Maurer Group is completing its next live CD, "Twisted," recorded during the second set of its March 5 show at The Dakota.